Introduction of Feed Pellet Production Line:
1. Crushing Section
When the thickness of the raw material is >5 mm, the raw materials must be used for size reduction before the feedstock is sent to the Hammer Mill (crusher) to reach a diameter of less than 3 mm.
2. Mixing Section
Two open doors structure, discharge rapidly, no leakage, no residue. Multiform liquid adding system and can be matched with compressed air jetting system Suitable for mixing premix, poultry feed, aquatic feed, additives and chemical and medicine industries, etc
3. Pelletizing Section
Acting as the heart part of the whole processing line, ring die pellet mill through adjusting the rotational speed of screw feeder axis to obtain the suitable flow of material, through the enforced feeder, enter the pressing room to pelletize finally.
4. Cooling Section
After the pelletizing process, the temperature of the feed pellet is about 60-80 degrees Celsius, with a moisture content of about 15%. A Cooler must then be used to reduce the moisture content of the wood pellets to about 3-4%, thereby making the feed pellets easier to store.
5. Screening Section
It is applicable for screening and classifying of mash or pellet feed. It is also can be used for cleaning of raw materials and classifyingof semi finished products after second grinding.
by large and medium feed mills.
6. Packing Section
After cooling and screening, the feed pellet must be protected from moisture and other environmental conditions. For this there is the packing process, which is effectively handled by our Semi-Auto Packing Machine.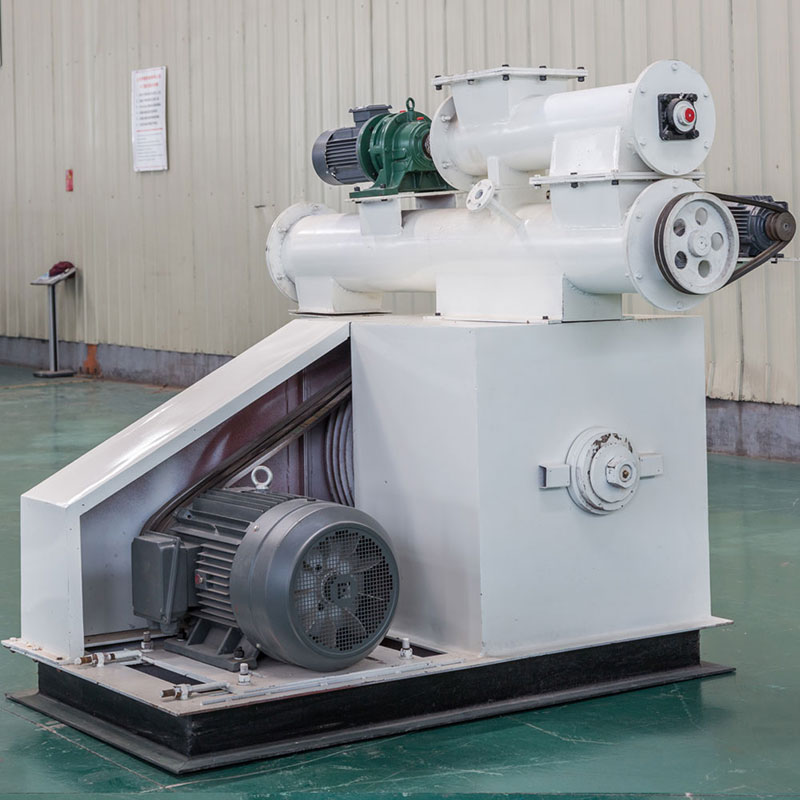 Advantages of Feed Pellet Production Line:
1.Feeder of Feed Pellet Machine uses frequency conversion motor, it can be adjusted within a certain scope according to the need of production.
2.Raw material of Poultry Feed Pellet Machine are various, such as corn, soybean, sorghum, wheat powder etc.
3.Motor of feed pellet machine use Siemens Brand, can run steadily, safely.
4.The safety protection device consists of interlock device, outer machine discharging device and over-load protection device to ensure the safety and reliability;
5.The special designed lubrication oil return system, to ensure the bearing lubrication.
6.The ordinary conditioner, thermal insulation conditioner or double-shaft differential conditioner are options according to user`s requirement
7.Feed pellet machine is wide adaptability of material, it can produce complete feed pellet with various requirements.
8.Finished pellets of feed pellet machine can maintain the microelements, good tasty and absorption.
9.The feed pellet diameter can be adjusted between diameter 2mm and diameter 8mm(change the die with different diameter), the length can be adjusted between 5-20mm, suitable for animal different growing period.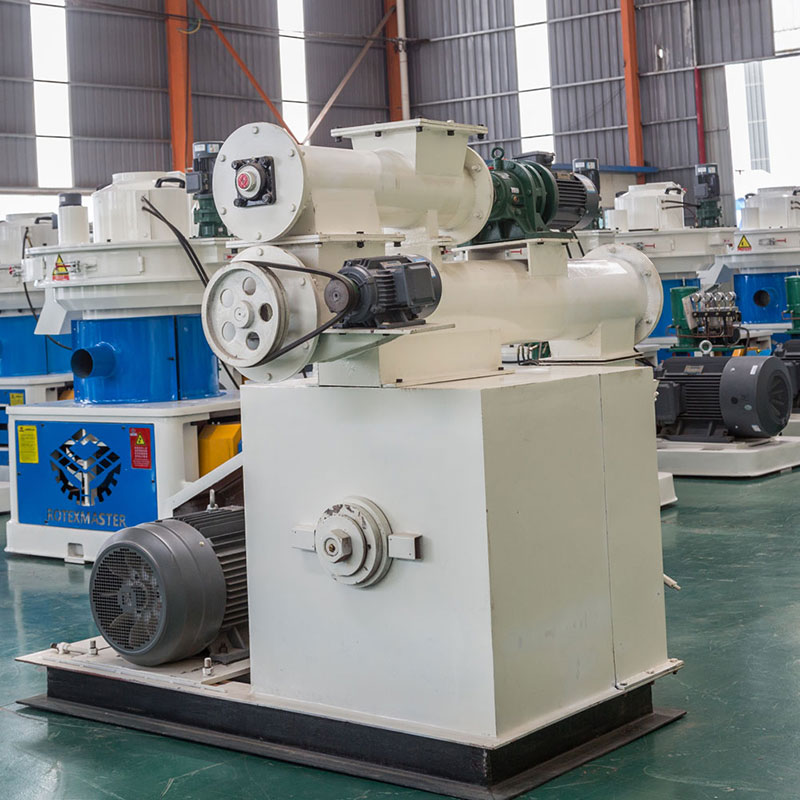 Models of Feed Pellet Line:
| | | | |
| --- | --- | --- | --- |
| Model | Power(KW) | Particle sizes(mm) | Output(t/h) |
| YHKJ250 | 22 | φ2-φ8 | 0.6-1.5 |
| YHKJ300 | 37 | φ2-φ8 | 1.5-2.1 |
| YHKJ320 | 45 | φ2-φ8 | 1.5-3 |
| YHKJ350 | 55 | φ2-φ8 | 3-5 |
| YHKJ450 | 90 | φ2-φ8 | 6-10 |
| YHKJ610 | 150 | φ2-φ8 | 8-15 |